Creating a harmonious and stylish modern interior from floor to ceiling can transform your living space into a haven of contemporary elegance. By carefully considering every element, from the flooring to the ceiling, you can achieve a cohesive look that is both visually appealing and functional. In this article, we will explore some tips and ideas to help you elevate your spaces and create a seamless and stylish modern interior.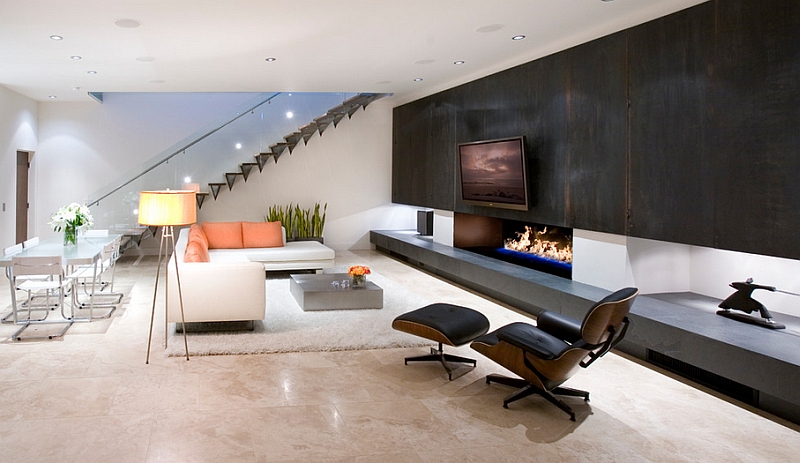 Creating Harmony: Designing a Modern Interior from Floor to Ceiling
When it comes to designing a modern interior, start from the ground up with the flooring. Opt for sleek and polished surfaces such as hardwood, concrete, or porcelain tiles. Choose a flooring material that not only complements the overall style of your space but also provides durability and ease of maintenance. Consider using large format tiles or wide-plank hardwood to create an illusion of spaciousness and continuity.
Moving up to the walls, choose a neutral color palette to create a clean and sophisticated backdrop. Whites, greys, and beiges work well to set the stage for a modern interior. To add depth and visual interest, experiment with different textures and finishes. Incorporate wall panels, textured wallpapers, or even exposed brick for a touch of uniqueness that still aligns with the modern aesthetic.
Lastly, pay attention to the ceiling, which often gets overlooked in interior design. Opt for a smooth and flawless finish, preferably in a light color to enhance the sense of height and openness. Consider incorporating recessed lighting to create an unobtrusive yet impactful illumination. If you desire a bold statement, explore the possibility of installing a unique ceiling fixture that serves as a focal point, adding a touch of drama and personality to your modern interior.
Elevating Spaces: Tips for Achieving a Seamless and Stylish Look
To achieve a seamless and stylish look, focus on the details that bring everything together. Choose furniture and decor pieces that reflect the modern aesthetic. Incorporate clean lines, geometric shapes, and minimalistic designs. Opt for quality materials such as leather, metal, or glass to add a touch of luxury and sophistication.
Incorporate ample storage solutions to keep clutter at bay and maintain a clean and organized space. Built-in cabinets, floating shelves, or hidden storage compartments are great options to consider. By keeping your belongings neatly tucked away, you allow your modern interior to shine and create a sense of tranquility.
Lastly, don't forget to add personal touches to your modern interior. Introduce pops of color through artwork, cushions, or rugs to add vibrancy and a sense of individuality. Plants and natural elements can also help bring warmth and life to your space. The key is to strike a balance between functionality and aesthetics, creating a modern interior that is both visually appealing and comfortable to live in.
Also consider decorating with dried flowers or try your hand at ikebana 4 Paint a half wall Image credit Barlow amp BarlowJonathan Bond For entryway paint ideas with designer approval choose a fun pop of color for the lower wall and add a touch of playfulness says interior designer Lucy Barlow1 Choose lowslung furniture to make a ceiling Look higher Image credit Designers Guild Lowslung furniture that hugs the floor is the friend of living rooms with low ceilings So too are designs that are simple in form and function Why2 Light fixtures that blend In her hallway upgrade homesweethorton cleverly disguised a low ceiling by incorporating light fixtures that blend into the ceiling Glass fixtures allow everything to flow nicely which can trick your eye into thinking theres more space than
there actually is Credit Lula Poggi 3Navigating Space Planning and Layout Optimizing space is crucial for Barndominium Interiors Here are some considerations 1 Open Floor Plans Popular in most barndominiums these plans integrate living dining and kitchen areas creating an expansive feel 2Design 17 ceiling ideas to add wow factor from above Transform your fifth wall with ceiling ideas that are sure to add character to every room From beams and paint to wallpaper and more unique ways to cover ugly or dated ceilings there39s so much in the way of inspiration Image credit Graham amp Brown By Holly PhillipsOctober 21 2022 Open floor plan design has become increasingly popular and for a good reason An open concept house offers a wealth of benefits that traditional closedin floor plans just cant
beat Read on to see if open concept living is right for you as well as our favorite open floor plan ideas for for a welldesigned Look throughoutMethod 1 Traditional approach to hanging curtains on a 10foot ceiling Method 2 CeilingtoFloor approach for hanging curtains on a 10foot ceiling Method 3 Breaking up the space using multiple curtains on a 10foot ceiling Tips for selecting the right length of curtains for a 10foot ceiling ConclusionOverall modern Georgian interior design is all about combining classic details with modern touches to create a sophisticated and elegant Look More Modern Georgian interior design ideas Besides these three emerging themes to achieve modern or comtemporary Georgian style there are some other ideas to lean to the traditional side of Georgian
With these tips and ideas, you can transform your living space from floor to ceiling into a modern oasis that you can be proud of. By focusing on creating harmony between the flooring, walls, and ceiling, and by paying attention to the details that tie everything together, you can achieve a cohesive and stylish look. So, let your creativity flow and start designing your dream modern interior today!